This page is to show you different ways that we have been using our resources to raise funds so that we can continue with our work. Mostly handmade products and also yoga teaching offerings. Every year there is something new, so the products that you are seeing may not be available anymore but keep your eyes out to see what we are up to ! Â Let us know if there is anything you would like to purchase.
STUFF SACKS
These totes were made from recycled building material found in a dumpster where Peggy volunteers to help builds Habitat homes in Calgary
They are sturdy an will hold heavy loads, they are great for storage or taking to the market. Â Handmade, each one is an original. You won't find anyone else with the same bag as yours! Artist Peggy
click to enlarge photos
BOOTIES FOR BUILDS
These adorable booties are designed and handmade with love by Louisa. Every bootie is an original and babies Love them!
These embroidered booties that are perfect for newborn babies that are not yet walking. They are soft soled and easy to get on and off, wash in cold water, no dryer. Artist Louisa
Babies LOVEÂ Them !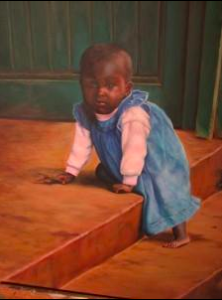 YOGA CAN CHANGE THE WORLD
Regular weekly classes offered at the Roundhouse Community Centre in Vancouver.  And special fundraising events held in Vancouver and Zambia.  Artist Kathryn
SISTERHOOD SCARVES
Made from recycled T-shirts and a whole lot of creativity. Fashionable and functional, fun and kinda funky. Every each one is an original. Ladies are loving them especially because with every purchase they are helping to build homes: Artist Peggy
 ART
Peggy is an extremely talented artist.  Her work speaks for itself.  Some of the proceeds of her work is sold to help fund expenses for builds.  The baby without booties is one of hers as well. Here is a small selection. Some of her art can be found here
RECYCLED REFURBISHED VINTAGE FURNITURE
Furniture that has been purchased second hand or donated brought back to life and looks absolutely gorgeous, very up to date and unique.  These don't last long once someone finds them.  Usually sold on Craigslist: Artist Peggy  aka Decorating Diva